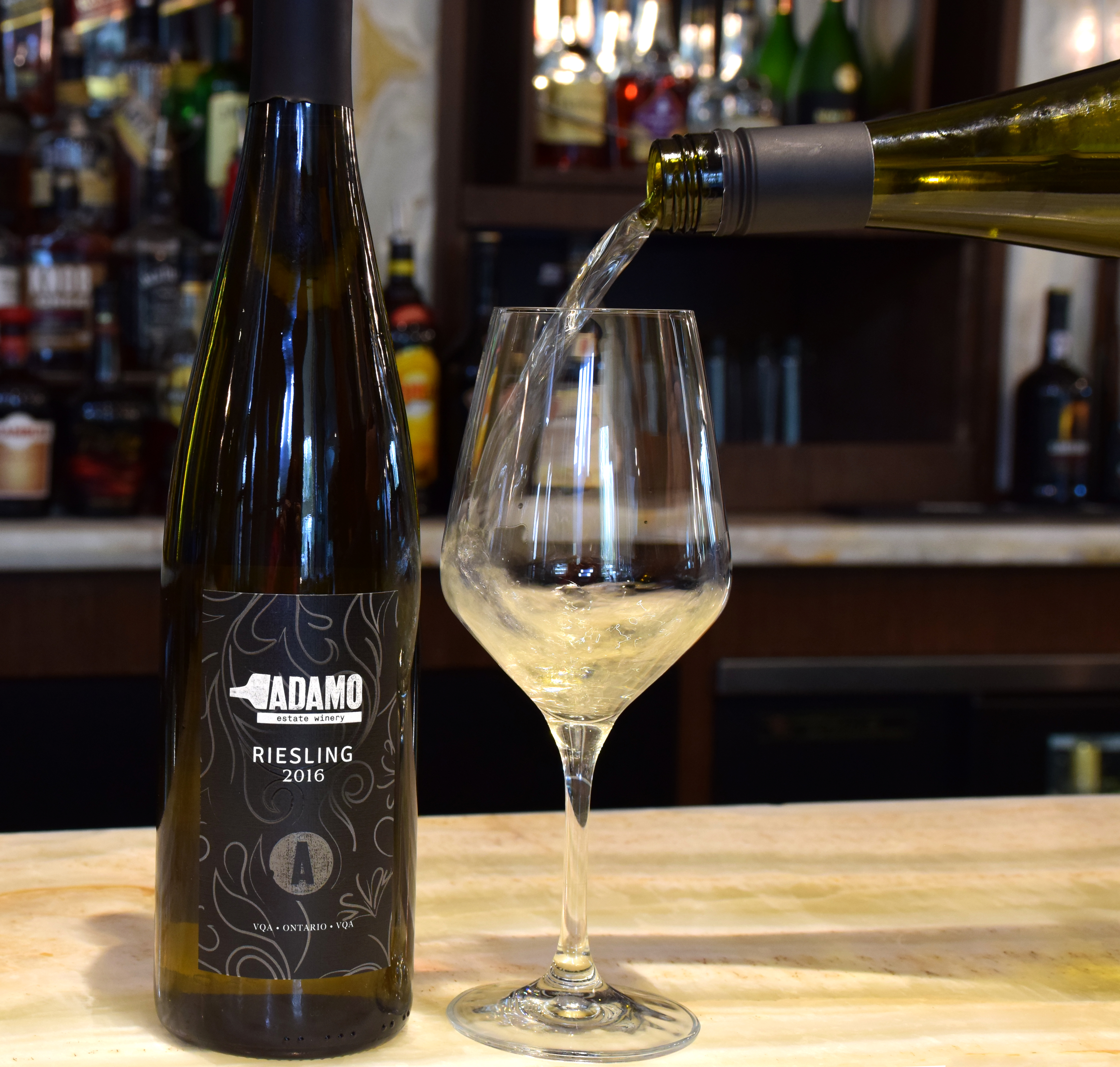 Have you tried our 2016 Estate Riesling? We are so proud of this award-winning wine, with the grapes coming strictly from our vineyard in Mono, ON!
Our 2016 Estate Riesling is special and unique because 1 of the 2 blocks of the grapes used in this wine had botrytis noble rot, which resulted in an apricot character. This wine is made from grapes planted in the vineyard 5 years and 4 years previously. Both batches of grapes were picked on different dates, kept separate during fermentation and then blended only after fermentation. It has a backbone of acidity that has a refreshing finish. Take a look at our tasting notes below for more information on this wine:
Winemaking:
The 2016 Estate Riesling was harvested when the flavours were fully developed and the acidity was just right. We had 2 separate harvests of Riesling from each block. The older vines had good botrytis and we selected our harvest date based on the botrytis and its flavours. We hand harvested each block separately to protect the integrity of the fruit and whole cluster pressed in our gentle bladder press. Juice selection was made at the press pan to ensure there was not any over extraction of phenolic flavours from the grape skins. It was cold settled after pressing and then racked into stainless steel for a long, slow fermentation at cool temperatures, to enhance aromatics and to preserve fruitiness. The alcoholic fermentation was stopped when the balance was ideal and each fermented wine was then blended together, protein stabilized and filtered before bottling.
Appearance:
Straw with a clear hue.
Aromas:
Citrus fruits and tree fruit aromas of apricot and pear fill the glass. While an underlying bouquet of apple blossom, green apple and honeysuckle add complexity and intensity to this Riesling profile.
Palate:
Layers of fruit and texture fill the mouth. Citrus pith, citrus flesh and spice are layered with subtle texture and balance. Hints of elderflower, followed by dried apricot and juicy lemon are supported by a clean, refreshing balance of acidity. Our Estate Riesling incorporates a fruit-driven palate with a tight focus and med-long finish. A pleasant light-medium bodied wine with a lingering finish that drinks well on its own and pairs with many styles of food.
Want to learn more about our wines? Visit our website at www.adamoestate.com.